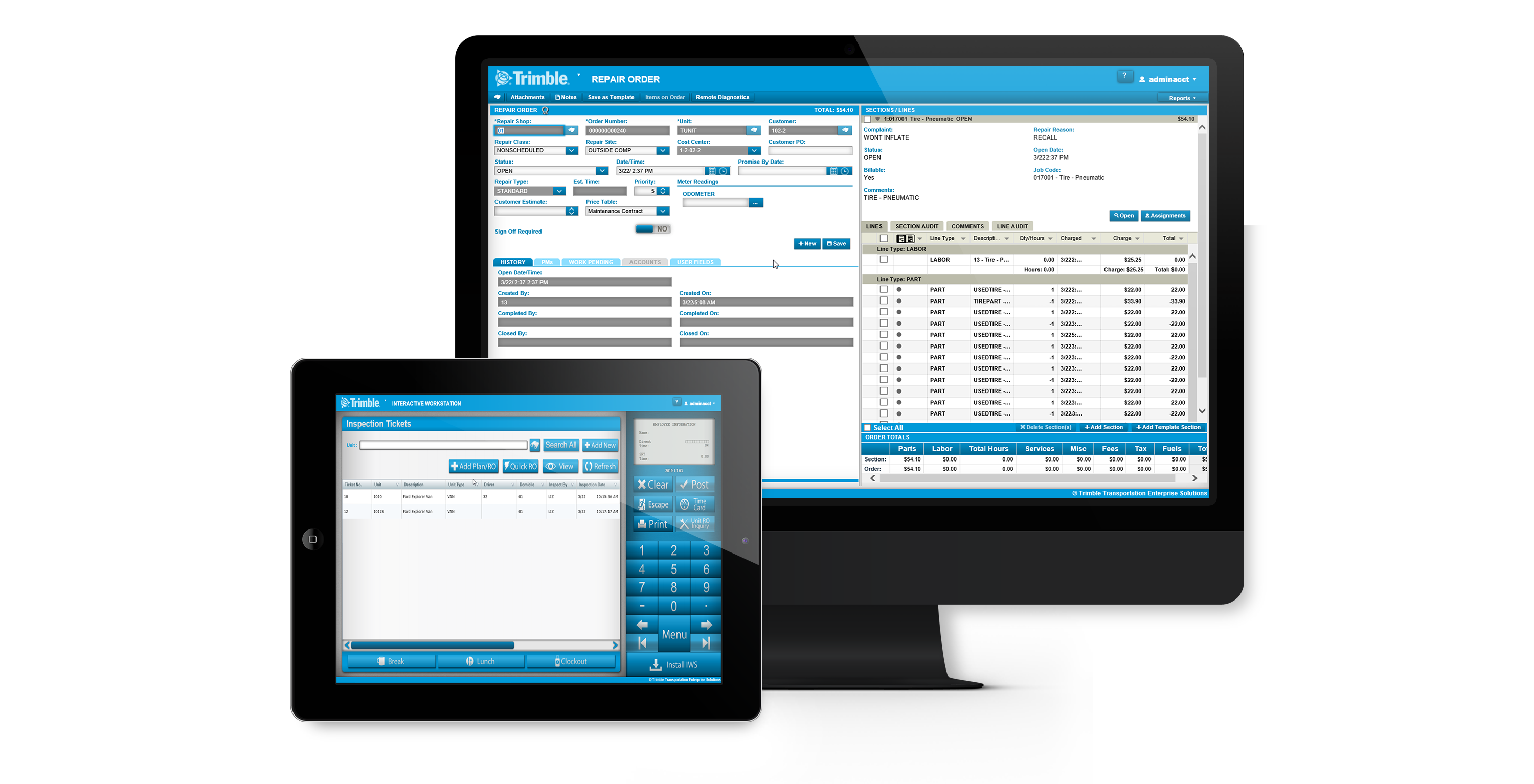 Evolve your shop from day one.
TMT systematizes a full range of shop functions to optimize workflows, reduce technician downtime and promote service consistency and quality. Popular features include:
PM scheduling
Work-pending repair order alerts and proactive notification
Real-time RO generation at the shop floor
Work standards set by task
Enter key information for each piece of equipment just one time, then leverage this intelligence across your entire business and across a wide variety of types of vehicles and equipment. User-defined and system-designed reports help uncover new opportunities to improve equipment management and maintenance practices. You can use this module to:
Track maintenance costs per mile, per hour and/or other user-defined measure
Record equipment inventory, specifications and component details
Generate accurate equipment cost comparisons
Document license permits and inspections with pending expiration alerts
Parts/Purchasing Management
Save time and money through streamlined purchase ordering and parts inventory management. Use this module to:
Analyze part usage and inventory movement
Manage corporate purchasing with parts catalog
Set reorder points and alerts
Monitor back-order status
Track purchases by supplier
Interface with accounting
Bar coded parts and bin labels help streamline inventory, eliminate stocking errors and ensure proper billing for parts and labor.
Interact with your data using visual controls such as grids, charts, gauges and graphs.
One-click reporting with drill-down options
Easily export and share reports as PDFs with active hyperlinks
Save reports in PDF, CSV and Microsoft Word or Excel formats
Invoicing enables service providers to generate accurate, timely invoices to internal and external customers for work performed in the shop or service center.
Manage customer-specific discounts

Eliminate errors and customer complaints

Compress order-to-cash cycle
Experience the convenience of credit card processing to expand payment options and business opportunities. Service centers and fleets can easily accept and quickly process credit card payments for their retail maintenance operations giving customers new options.
Coordinate, track and manage repair schedules for equipment routed to a company or vendor facility.
Forecast work requirements and labor needs
Schedule campaigns
Generate cost estimates
Track units and people with multiple grouping and sorting options
Work standards set by task