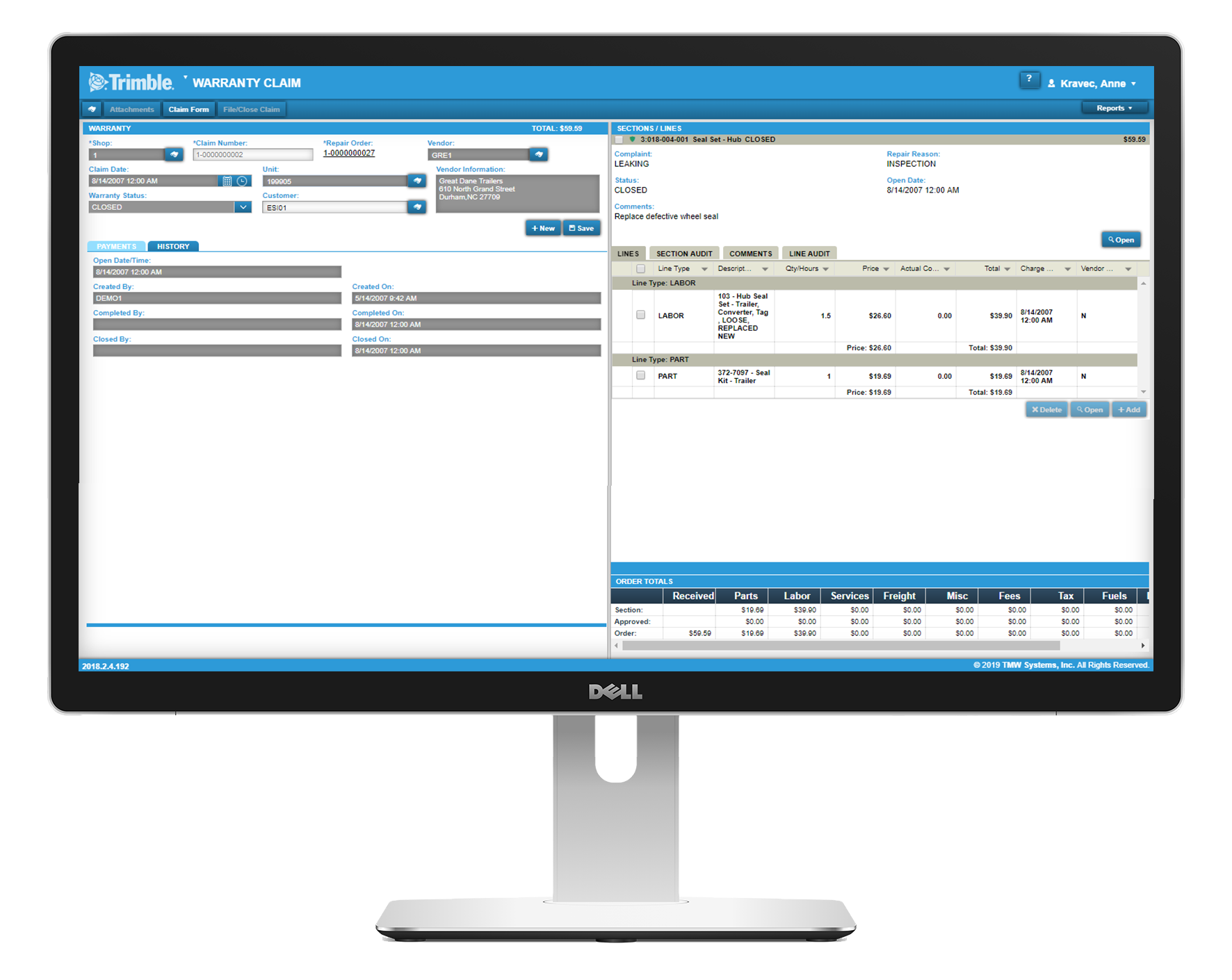 Customize your own journey.
Dramatically increase recovery of available warranty dollars for vehicle repairs and OEM and aftermarket parts.
Track unit, system, component or specific part number under warranty in master records
Access daily warranty reports, failed parts analysis, warranty claims preparation and claims analysis
Capture mechanic failure analyses, notes and other information via TMT Interactive Workstation
Ensure compliance with supplier-specific claims procedures
Reduce data entry time and increase productivity through this web-based, touch screen user interface. Mechanics can easily log and manage inspection tickets, repair orders, yard checks, gate in/gate out activity and daily repair order activities. The module automatically tracks labor – direct, indirect and idle time – associated with each repair order and exports timecards to payroll systems.
Automatically flag warranty claim opportunities for vehicle and/or parts
Instantly switch between open ROs for high productivity or view complete vehicle history
Ready to be deployed across multiple shop locations
Automate the shop floor by integrating capabilities of the TMT Interactive Workstation, Parts Workstation and Shop Planners and Schedulers.
Reduce operating cost by closely tracking the status and performance of every tire.
Highly intuitive visuals of speed capture, monitoring of tread depth and air pressure readings
Automatic tread depth alerts
Visual tire configurations by unit type; specify number of axles, axle type, tires per axle and position labels
Identify which tires really cost less to operate
Take control of your parts information and establish the foundation of a truly connected fleet maintenance enterprise by joining other TMT software users in correlating the thousands of central VRMS codes with the millions of OEM part codes. As this network grows, participants will be able to gain a deeper understanding of parts usage and cost regardless of manufacturer, leading to improved efficiency, productivity and bottom-line performance.
Manage repairs performed on the road and/or through outside vendors.
Automated repair order process reduces data entry for dispatch and shop personnel
Define and manage maintenance service and leasing contracts for both monthly fixed and variable billing plans.
Expand service offering without additional administrative overhead
Track service contracts and manage billing via direct accounting integrations
Provide mechanics with real-time notifications of service coverages
Ready to maximize your uptime?
Empower your drivers to perform accurate pre- and post-trip inspections, review prior inspection reports and confirm that appropriate repairs have been completed. Data integrates with TMT Fleet Maintenance to create repair orders as needed.
Quickly and easily create and manage physical inventory remotely using a handheld device, increasing inventory accuracy and reliability. Track any stocked, non-stocked or consignment part (new or used), tool or supply.
Accelerate the service and repair process by enabling mechanics to use their mobile devices to track labor and parts usage, open and close repair orders, recall repair service history, follow maintenance checklists, capture mileage and notes, and even locate and request parts.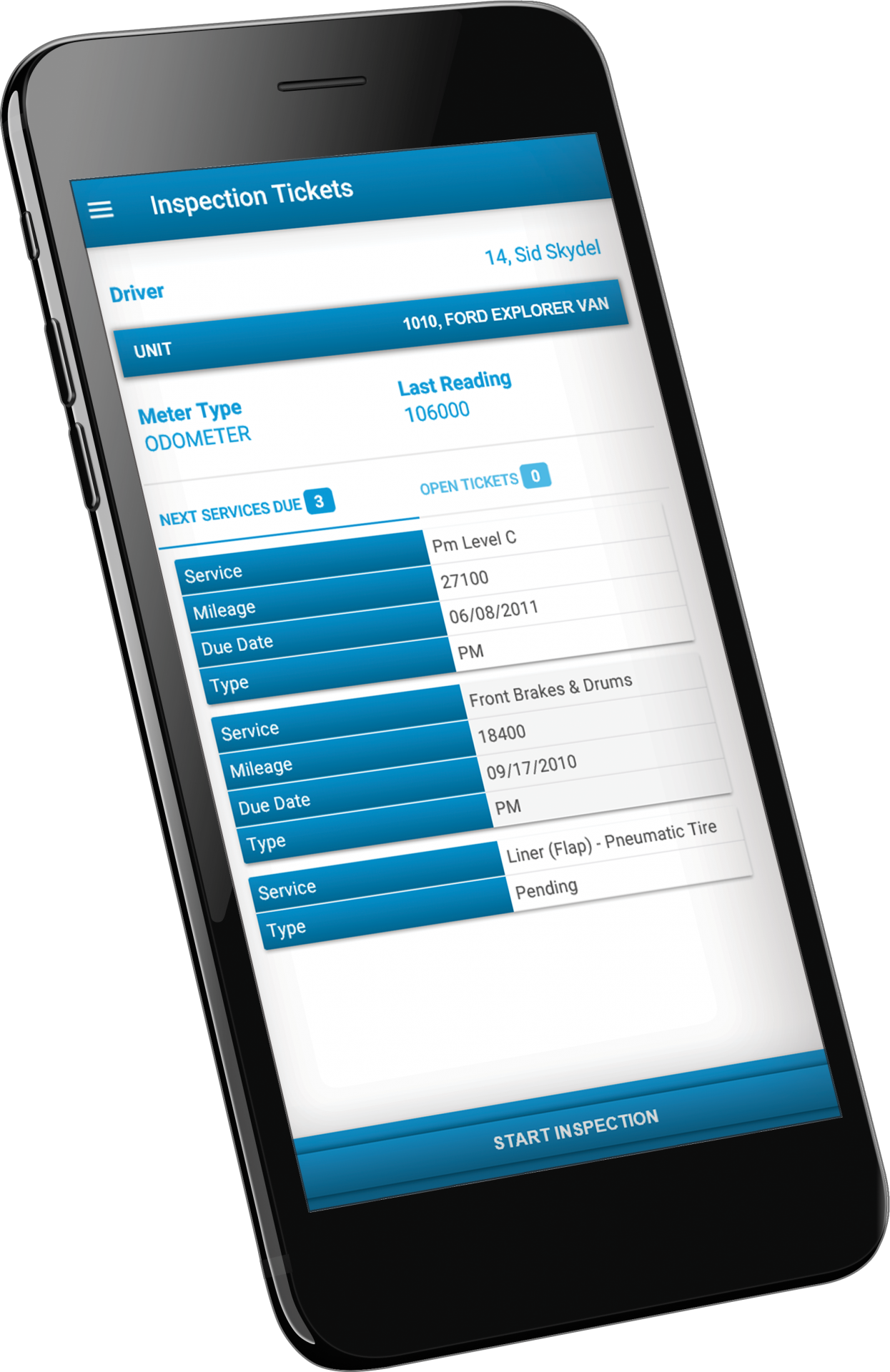 Trimble Advanced Reporting
Enhance the performance of your fleet maintenance or service center operation through a robust set of fundamental, easy-to-use reports that will help you turn information into positive action. Using Power BI to extend clear access into critical information, Trimble Advanced Reporting provides single-click visibility and corresponding drill downs into the following KPIs: Inventory Value; Parts Turnover; PMs Due; PM Compliance; Employee Productivity; RO Summary: Tire Repairs; Inspection Tickets; Cost Per Mile; and Warranty Costs. This module can also be used for budget tracking.
In addition, the Advanced Reporting Service Center Dashboard gives you an easy to use, configurable and intuitive way to visualize critical data for profitability and resource efficiency. This feature is designed to make information accessible and actionable with key data uniquely focused on the needs of service centers.
Our Reveal Series, developed exclusively by and for transportation industry professionals, is a powerful set of decision-making tools. The series includes Data Warehouse and Visual Analytics Dashboards along with ETL capabilities and database optimization, which empower your business to leverage data sourced from multiple systems within your business as well as other industry organizations.
With these solutions you can:
Generate actionable intelligence across all business operations
Adapt strategies, systems and services to a changing market
Benchmark business performance against industry peers