Visibility
Trimble Visibility products provide shippers and carriers with 360 degree visibility of their shipments. Feeding data from TMW.Suite to Trimble Visibility allows carriers to provide their shippers with near real-time views of loads including key data such as ETA and alerts. Visibility customers can customize views and utilize roust filter and search capabilities to identify what is moving on every order, every stop and every shipment. Advanced technology such as Trimble's Trust Center works with Trimble Visibility and other visibility providers to control what data is sent to providers and shippers and specifically to who. Integration tools are also available with Trimble's Developer Network which enables carriers, shippers and partner developers to integrate other Visibility providers with TMW.Suite. For more information on Trimble Visibility products, visit us online.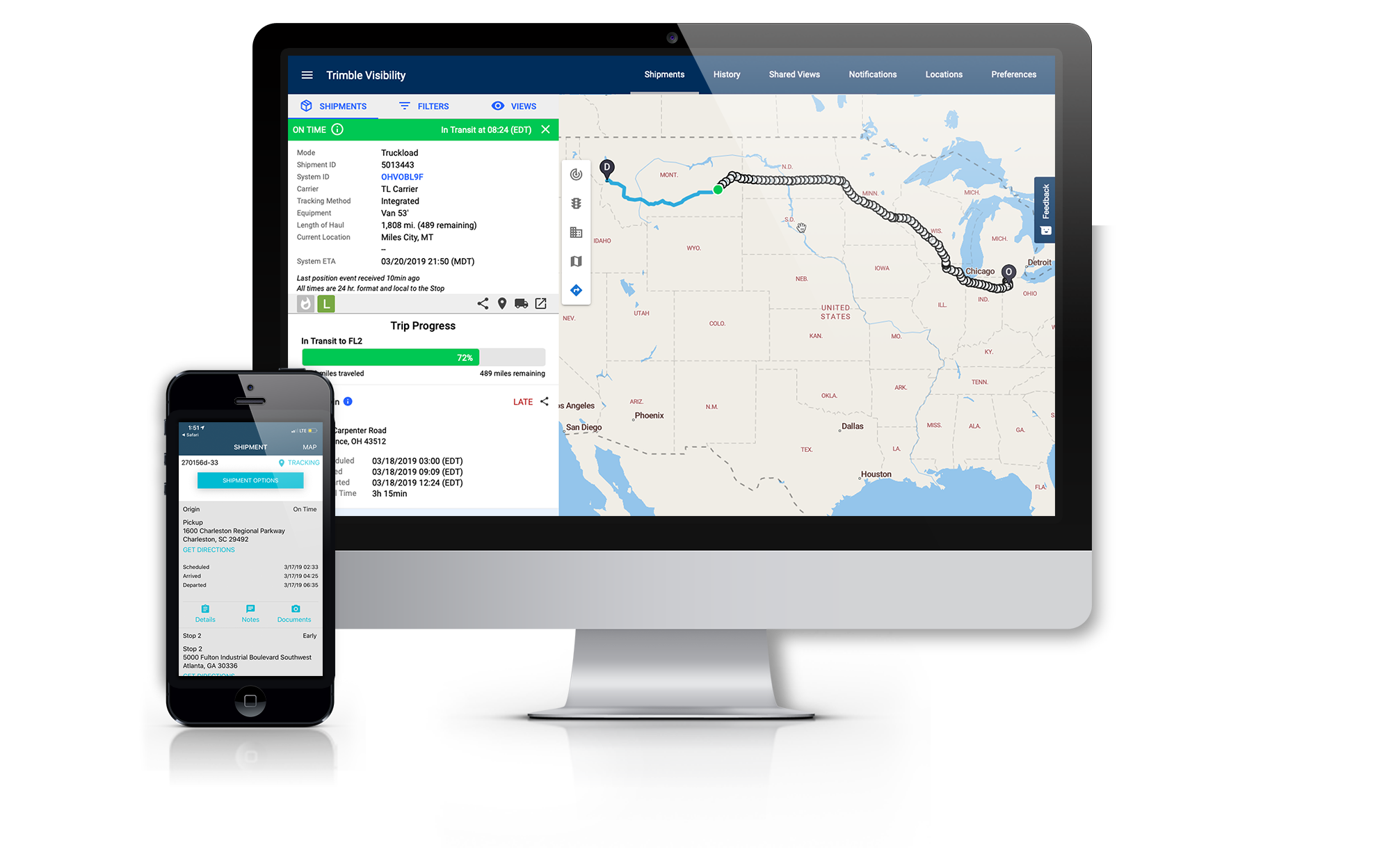 Web Portals/ Web Apps
CashLink
CashLink is a dedicated set of APIs that allow TMW Customers to connect to a B2B integration service provided by Amalto. The specific set of transactions that will be processed are the completed invoices for given Bill-To transactions. The data will be passed to the Amalto portal and Amalto will provide the service of formatting, transmitting and validating the transaction is complete with the Bill-To's marketplace.
DriverSeat Application
The DriverSeat add-on to the TMW web platform functions as a driver services web portal to provide secure, remote access for company drivers or owner-operators to settlement records, pay statements, trip histories and more.
CarrierHub
The CarrierHub add-on to the Trimble web platform enables you to create your own brokerage web portal for a private carrier network. Authorized carriers can view loads that are available for assignment, request an available load, or self-assign themselves to available loads, based on broker preference. When used with the optional External Equipment Tab module, available trucks posted by carriers to your CarrierHub External Equipment page are searchable by dispatchers within TMWSuite.
eStat
The eStat add-on to the Trimble web platform enables controlled access to your load status data for customers via the web, 24 hours a day. Service features for the customers that you choose to authorize for online access through eStat include entering quote requests, placing/tendering orders, track-and-trace, even viewing delivery documents for completed orders. eStat can also 'push' load status and service performance reports to your customers automatically by email, at intervals that you can set. Comprehensive security options control who can access your eStat portal and tailor optional features and services to meet the needs of each customer.
Weather for TMW Web
This optional feature for TMW web platform applications such as eStat, CarrierHub and DriverSeat enables the display of current weather data as a new layer for standard ALK map visualization, when that weather data is licensed from ALK.
WorkCycle
WorkCycle Enterprise
WorkCycle for TMWSuite is a system add-on to build business automations, or workflows. A workflow is based on a workflow template, which consists of one or more user-definable activities. A template's function depends on its activities, how they are interconnected and their settings. Examples: waiting for a user-specified time; creating and appending information to files; copying, moving, and renaming files; comparing a pair of numeric values or text values; working with files on an FTP site; emailing users with information or the results of activities. Workflow templates and settings are stored in the database and can be made available to all WorkCycle users logged into the system.
WorkCycle Plug In: Auto Apply to Credit
A WorkCycle add-on that automates matching of credit memos with invoices or re-bills related to the same order in Microsoft Dynamics GP, reducing search and duplicate effort.
WorkCycle Plug In: ePay
A WorkCycle add-on that pushes pay details to the ePay server for ACH transaction processing, pulls data from the ePay server and updates pay details with status information. Reports any errors during pay detail creation so that user can correct and resubmit. For carriers under contract with ePay services, can streamline carrier invoice processing and payment by brokerage operations.
WorkCycle Plug In: Carrier 411
A WorkCycle add-on for brokerage to integrate with the Carrier 411 third-party carrier monitoring service. Automates connection and import of current motor carrier information from this service to TMWSuite master files for each carrier.
WorkCycle Plug In: RMIS (Registry Monitoring)
A WorkCycle add-on for brokerage to integrate with the Registry Monitoring Insurance Services (RMIS) third-party carrier monitoring service. Automates connection and import of current motor carrier information from this service to TMWSuite master files for each carrier.