Business Intelligence
Reveal
Trimble Reveal gives to access transportation specific pre-built calculations, reports, scorecards, dashboards, geographic maps and advanced reporting & analytics to spot opportunities and to support continuous improvement. Users have the ability to build custom integrations with other internal systems, such as HR and costing, to obtain a comprehensive profit and margin analysis. Trimble Reveal is a one-stop data shop to enable customers to focus on improving their business using evidence rather than anecdotes and get them out of the business of data wrangling.
The solution offers the tools customers need – clean data from across their business input into a transportation-specific data model – ready to go with pre-built calculations and pre-configured scorecards and dashboards. When a company purchases Trimble Reveal provides access to collect data from all aspects of its business winning more by reducing operating expenses and increasing revenue through driver, fleet and fuel optimization.
Engage.Bid
Trimble's Engage.Bid web-based application streamlines the entire freight bidding process, helping you to easily manage the high-stakes grind of bid management, strategic pricing, lane awards and commitment management.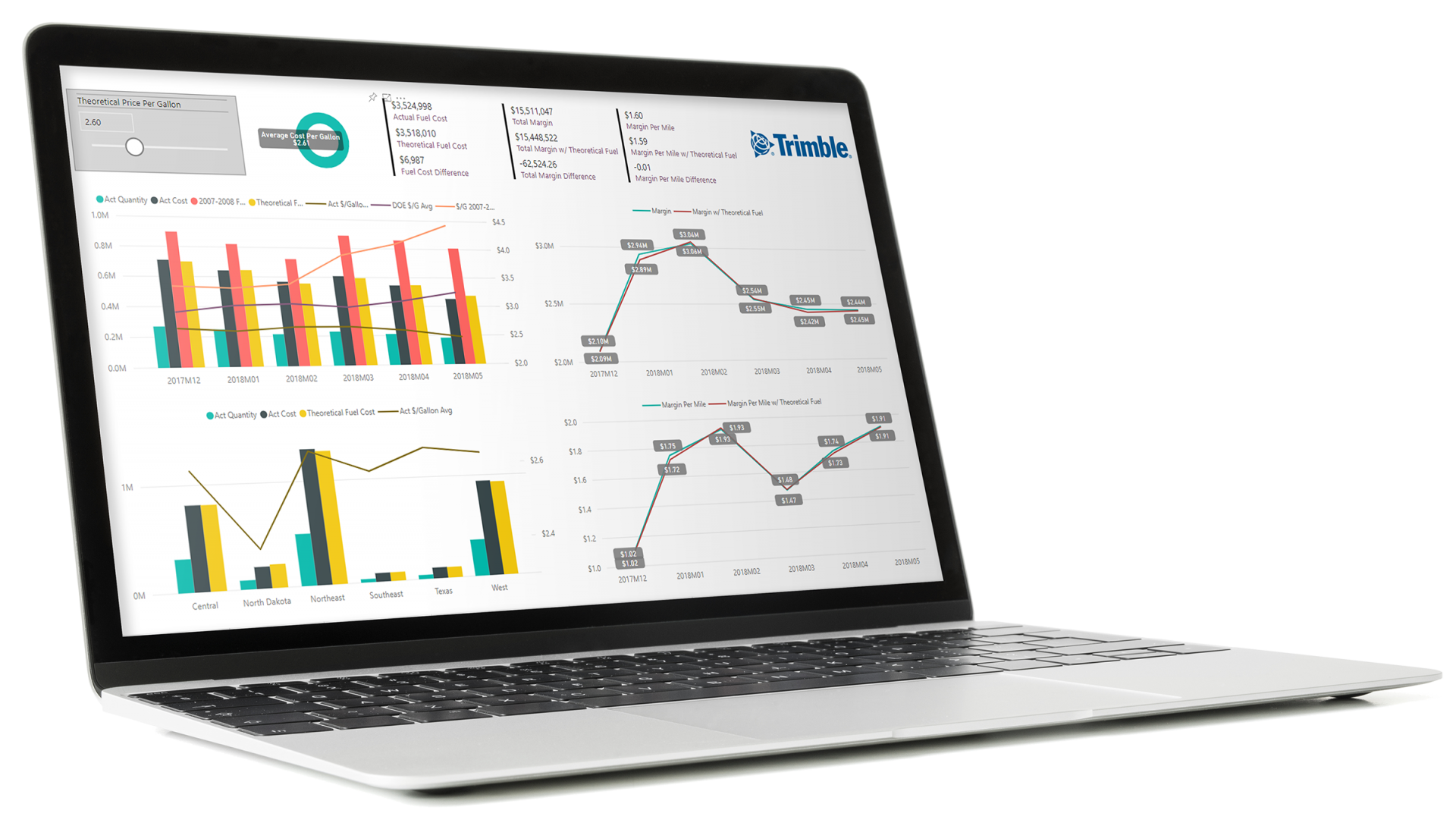 The NetWise software engine focuses on the root causes of poor profitability, helping your business to solve problems instead of treating symptoms. NetWise provides timely feedback on performance throughout the organization with a framework to establish benchmarks for continuous improvement. Netwise addresses every process to produce the most profitable load--up to the point where the driver gets the work assignment. It extracts information from your dispatch database automatically (all major dispatch software is supported, including custom applications) to perform its complex analysis.
The DAWG is a business alerting module for TMWSuite that can be set to trigger alert emails or desktop warnings for a broad range of user-definable business or data events and trends. Enables management-by-exception in high volume operations, acting as a watchdog on the business through constant evaluation of TMWSuite data and transactions.
TruETA
TruETA is a cloud-based dispatch-to-delivery solution that automates ETA calculations, showing you where every load is and when it will arrive, also alerting you to potential issues. TruETA calculates and displays ETAs from dispatch and at each stop. TruETA accounts for required driver breaks and calculates remaining HOS at each destination to support accurate advanced planning. Visualize live traffic flow, weather and road surface overlays of current conditions to quickly identify and react to events.
Driver Trip Planning Module
A supplemental module to TruETA for TMW.Suite and TMWSuite, allow dispatchers to view how drivers are planning their trip, including rest locations they choose and durations of each stop. The tool runs as a module within TMWGo! and enables drivers to take into account their hours of service, and it recommends stops based off remaining drivable time. By knowing where a driver will stop, for how long they will stop and how their hours of service are affected, the Driver Trip Planning module calculates one of the most accurate ETAs from dispatch to delivery.
Out-of-Route and Out-of-Corridor Module
The module for TruETA enables carriers to see when drivers take an alternate route that wasn't part of the original plan. The carrier can see how long a trip may be extended in terms of distance, time, or both. The carrier can also alert the driver that they have diverged from the planned route and proceed back to the correct road. The module assists with driver route compliance and to better manage margins.
Mileage/Mapping/Routing Tools Available:
ALK Multiversion SmarkLink

Mileage SmarkLink

Mileage SmarkLink ALK Technologies - PC*Miler

Mileage SmarkLink ALK Web Services

Mileage SmarkLink ProMiles

Mileage SmarkLink Rand McNally
Toll data is retrieved during the mileage lookup process when an order is entered and is stored in the TMWSuite mileage database. By default, toll data is informational only. Optionally, system settings can be changed to automatically create invoice details for toll costs.
ALK Toll SmartLink

Rand McNally Tolls SmartLink