DRIVING BUSINESS EXCELLENCE, FROM ORDER-TO-CASH.
TMW.Suite is one of the industry's leading Transportation Management Solutions (TMS). It serves as the end-to-end business growth platform for hundreds of leading commercial and private carriers, brokers, 3PLs and other transportation enterprises.
Scalable to fleets with assets ranging from 20 and up, TMW.Suite stands alone in helping customers streamline every step of the transportation lifecycle – from soliciting business and booking orders to billing and settlements.
TMW.Suite is designed for:
Commercial Carriers and Dedicated Fleets
TMW.Suite helps carriers improve efficiency, utilization and operating ratios by providing real-time visibility and control of virtually every operational area and process. Diversified businesses can use this single solution to enhance the performance of asset- and non-asset-based divisions.
TMW.Suite enables private fleets to apply many of the same best practices used by leading commercial carriers. It can enhance operational efficiency, manage drivers for scheduling, automate repetitive order scheduling, maximize compliance and safety, simplify complex pay structures, reduce costs and streamline multi-stop, multi-order deliveries.
TMW.Suite combines world-class multi-mode rating and planning with the comprehensive order management, execution and accounting of a best-of-breed TMS – all geared toward reducing costs. It enables brokers to efficiently enter orders, cover loads and manage margin.
TMW.Suite streamlines the operations of key supply-chain participants in fuel delivery for retail locations. Fuel carriers (along with energy suppliers and petroleum marketers) have access to a rack-to-pump solution for improved inventory fulfillment services and better truck/driver utilization. Unique processes include: rapid order entry and management, rating/billing calculations, splash blend details, rack access, card tracking and integration with mobile communications in-cab.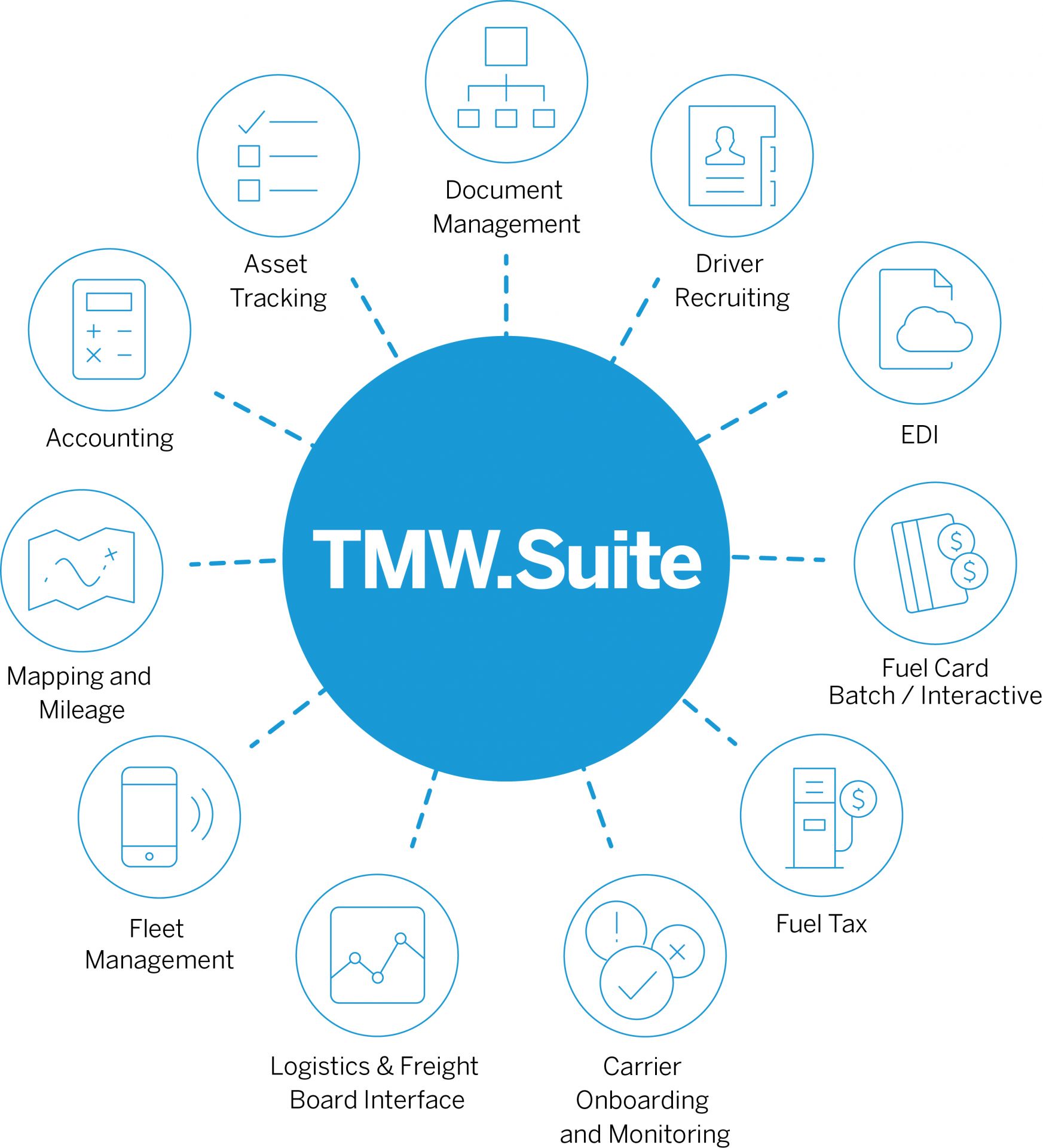 KEY BENEFITS OF
TMW.SUITE
Efficiency is the name of the game. Staff productivity and customer satisfaction is amplified by quickly capturing load entry, calculation of miles, pricing analyzation and margins, as well as customer and load specific information needed to plan and dispatch loads correctly and on time. TMW.Suite automatically calculates trip distance and estimated delivery time, helps you reduce empty miles, minimizes dispatch errors and enhances driver communication.